Coleman Air Handler Cleaner & Deodorizer Parts (1 results)
Coleman Air Handler Cleaner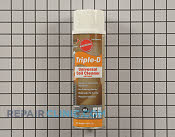 Triple-D Coil Cleaner is a 19oz Aerosol spray can, that is safe for homeowner use. One can will clean an entire outdoor condenser coil and/or indoor evaporator coil, to remove energy-stealing dirt, debris and soot.
Manufacturer #Triple-D-AER
Hazardous Material – Special Shipping Required
Order now and this item will ship out TODAY!