Dryer Testing Equipment (3 results)
Vent Testing Kit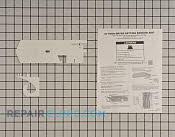 Dryer vent testing kit is for 29" dryers with a top mounted lint screen. Use the plastic card to hang inside your dryer drum, then run the unit three times empty. If the card stays in place, the venting and dryer need to be cleaned out. Complete instructions are included.
OEM Part - Manufacturer #W11224254
Order by 8:00 PM ET, this part ships TODAY!
Multimeter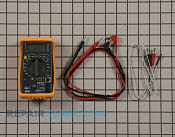 Digital Multimeter is an economical solution to your everyday electrical & temperature measurement needs. 750 volts AC , 1000 Volts DC. Temperature: -4 F to 2498 F, Operating Temp: 32F to 74F (0 C to 23 C), Fuse Protection mA: 0.2A/ 250V, 9 volt battery & temp probe included.
Aftermarket (Non-OEM) Part - Manufacturer #DM10T
Order by 8:00 PM ET, this part ships TODAY!
Voltage Tester
Non-contact A/C voltage detector. Test for voltage without touching any bare wires. This detector works by sensing voltage through the wire's insulation. Detector has an audible beeper and visible flashing light indicator.
OEM Part - Manufacturer #1000100009